Video Production

We help our clients succeed by creating video brand identities, digital experiences, and audience attention.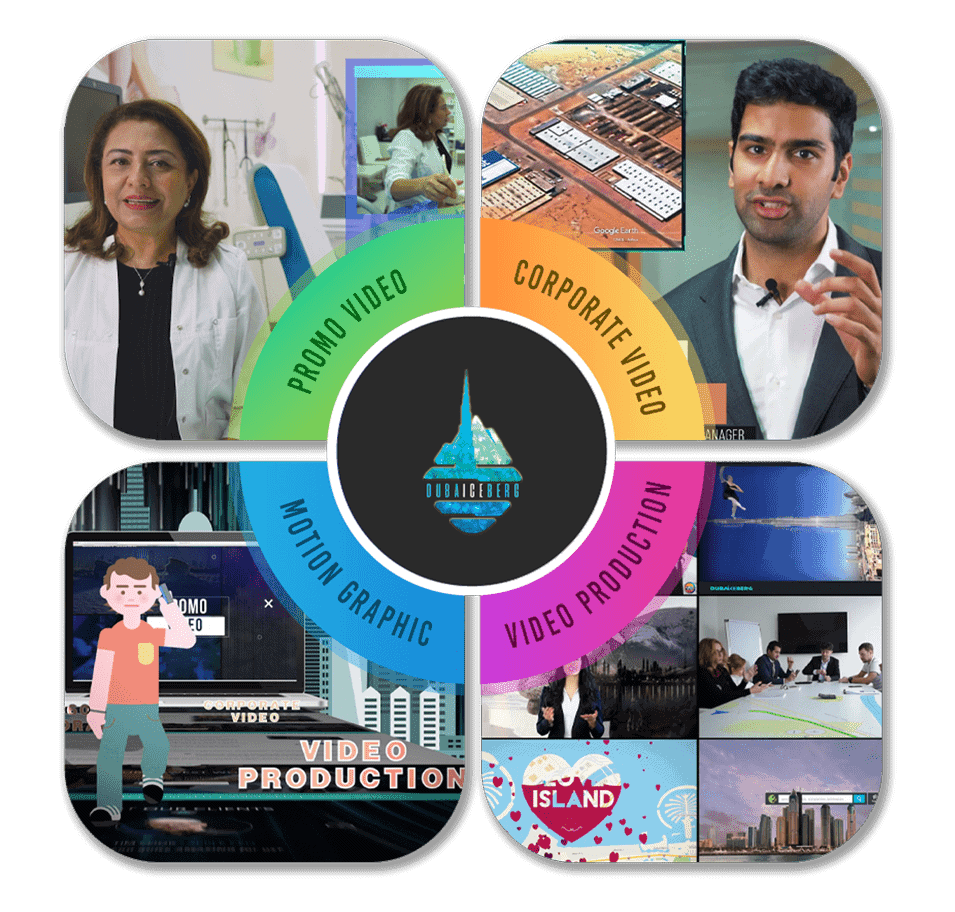 Video Production of Corporate, Promo & Streaming Videos.
So, you decided that your company or organization needs a video, and rightly so. You probably know what you need - business video, presentation, promo, and whatever else. For the best results, we need to know as much as possible about your ideas, goals, and desires.
You may need to fill out a brief and do it responsibly enough. After analyzing the information, we work with you to adjust the details and approve the deadlines for video production and other services, as well as determine the final cost of the project.
Video Production in Dubai
Video Production Services
We offer a wide range of services, from concept development and
pre-production planning to shooting, editing, and post-production.
Video Production in UAE
Stages of Video Production in Dubai
All-encompassing service dedicated to providing
comprehensive video production support
Pre Production
The process of creating a plan before a video project begins. This includes creating a script, storyboards, gathering resources and equipment, shooting locations, casting actors, scheduling crew and post production. Pre Production helps to create a clear path for the production crew to follow so that the final video product will meet the client's expectations.
Production
The process of actually shooting the video. It involves setting the sets, operating the cameras, setting up the lighting and sound, and recording the footage. All of these elements must be carefully planned and executed in order to create a successful video. Sometime it is a complex and time consuming process, however, the end product speaks for itself.
Post Production
The final stage in the production process, when all of the elements of the production are compiled together and edited. This includes audio and video editing, color correction, sound design, titles and graphics, visual effects, and mastering. Post production is an important part of any media project, as it can make the difference between a good production and a great one.
Video Production Company in Dubai
Our Video Production Services in Dubai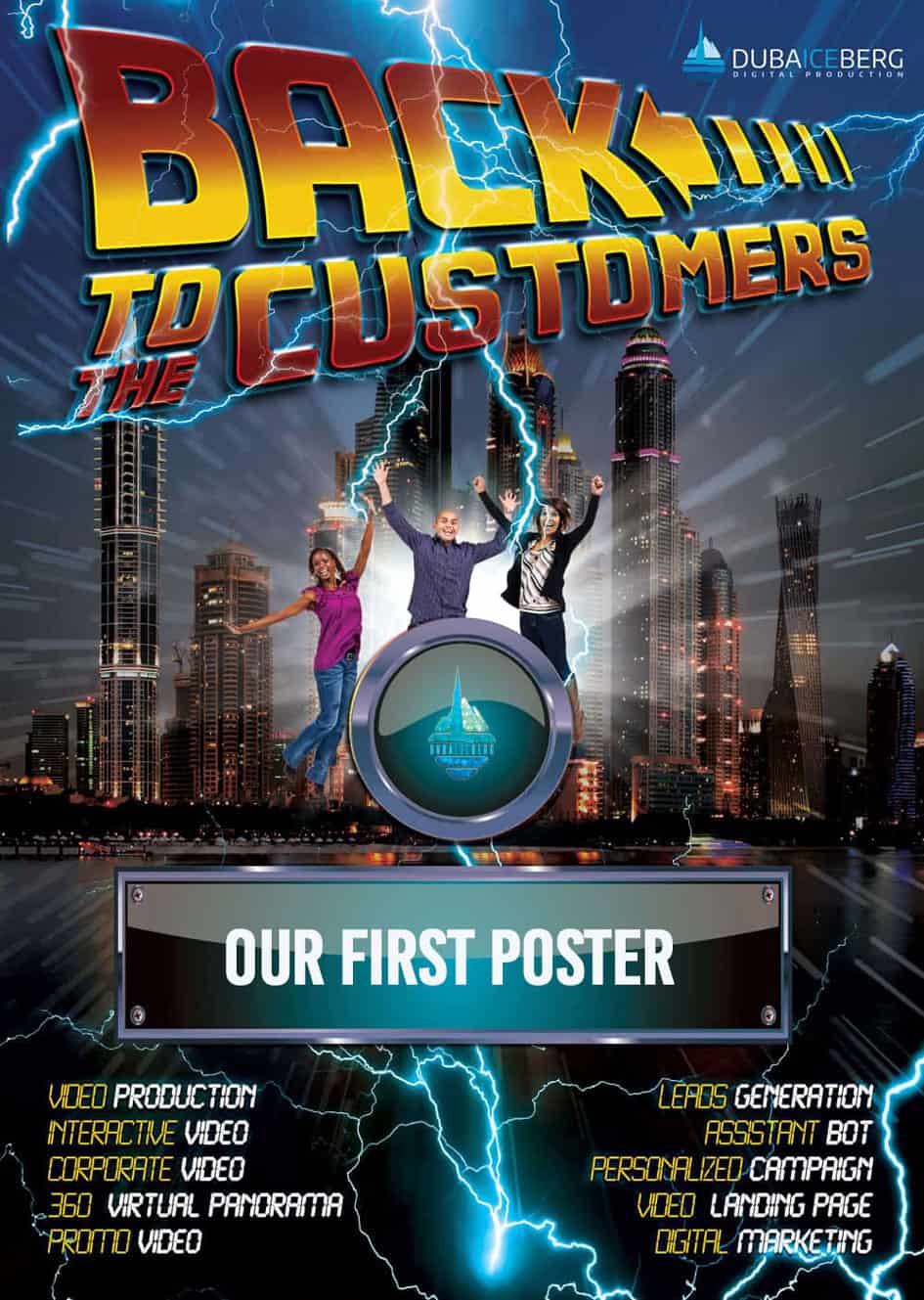 First step
At our video production studio, we take pride in delivering the highest quality of work to our customers. We ensure this by following a tried and true process to ensure the best results.
Our process begins with concept development and storyboarding to create a strong foundation. We then move on to casting, locations and crews, all of which are carefully selected to ensure the best fit for the project. Finally, we have a comprehensive production management system to ensure that each project is completed to the highest standard. With our Dubai's corporate video production company, our customers can have peace of mind knowing that their projects are in the best of hands.
Email or phone, it doesn't matter—we can accommodate your preference. Let's discuss your vision and budget for the video. Having an understanding of your budget range is essential to determine what's possible in terms of the video project. We are confident that as production company in the UAE with a solid plan and a reasonable budget, we can create a professional video that will help you reach your goals. Please don't hesitate to get in touch so we can get started.
With our transparent pricing, clients can make an informed decision on whether to work with us. We strive to give our clients the best products and services that we can offer, and our commitment to understanding our clients' businesses is what makes us stand out.
New Video Services
Our new value-added video services
Here we publish our new services that may be very useful for you.
Corporate Upgrading
Modernization of outdated company videos: no-shoot options, adding graphics and animation, voice-over, upscaling, color correction.
Linear video to interactive one
Converting a standard linear video into an interactive experience. This can include interactive elements such as buttons and menus, or even more...
Up-to-date, cheaper, faster.
Upgrading of outdated
corporate videos.
Upgrading of outdated corporate video is an important aspect to consider in order to maintain a professional online presence. Outdated videos can appear unappealing and unprofessional, potentially reflecting poorly on the organization. It is important to ensure that all business videos are up-to-date, visually appealing, and adhere to the latest industry standards.
Modern corporate film should include clear and consistent branding, informative content, and high-quality production value. Business videos can help to engage viewers, highlight a company's products or services, and create a positive impression for potential customers or clients.

Elements of film making
Detailed about film production terms
Voice-over is a professional service that delivers narration and dialogue for various audio and visual projects. It is typically used for commercials, explainer videos, e-learning courses, documentaries, and more. The voice-over artist provides a unique touch to the project that can elevate it to a whole new level. Voice-over involves a range of skills, from vocal delivery to interpretation of the script, to capture the intended emotion and style.
Script Writing is a comprehensive service designed to help you craft compelling stories and engaging content. Dubaiceberg experienced and knowledgeable team is able to develop original concepts and captivating scripts for any type of project. Our services include but are not limited to fiction and non-fiction writing, copywriting, script writing, blog writing, ghostwriting, and more. Whether you need help with a film script, a novel, or just some creative content for your website, you can trust us to deliver creative, attention-grabbing pieces of writing.
Editing & Compositing is a comprehensive digital video production service that offers comprehensive post-production services to deliver high-quality, professional-looking results. Dubaiceberg team of editors and compositors have experience and expertise in all aspects of video editing and compositing, from creating and editing raw footage, to adding special effects and color correction, to integrating various elements into a single, cohesive video. We specialize in creating visually stunning videos that are tailored to the client's needs, providing an aesthetically pleasing and cost effective way to achieve the desired results.
Motion Graphics and 3D is a creative service that combines the use of digital animation, visual effects, and computer generated imagery to produce highly engaging visuals. Dubaiceberg experienced team of 3D animators and motion graphic designers can create stunning motion graphics and 3D designs for promo video, film, and digital media that will captivate your target audience. We specialize in creating cutting-edge content that brings your stories and ideas to life. Our services include character design, 3D modeling, motion tracking, and more. Let us help you make a lasting impression with our innovative motion graphics and 3D solutions.
Sound Design is the process of creating, manipulating and arranging sound recordings to create an audio experience. This encompasses a wide range of disciplines such as sound engineering, sound editing, audio production, sound mixing, sound synthesis and sound effects. A skilled Sound Designer can produce soundtracks for film, promo video, video games, commercials, and even sound installations. Sound Design involves creative problem-solving and technical know-how, allowing professionals in this field to create unique and captivating soundscapes.